6 winter fruits and vegetables

Do you know which fruits and vegetables are typical of winter? In this article, we share some of them with you!
Each season of the year has its fruits and vegetables. Consuming them in the corresponding season means making a small change towards a more sustainable diet.
Eating seasonal vegetables and fruit benefits consumers, as the food is fresher and retains its original properties better. But it also reduces the environmental footprint of our meals by consuming food that does not require the energy of greenhouses to grow.
Do you know which are the winter fruits and vegetables? Winter offers a wide variety of vegetables for eating in creams, oven-baked or boiled. Moreover, winter is the season of citrus fruits, which will help us strengthen our immune system thanks to their high vitamin C content.
In this article, we share six seasonal fruits and vegetables to enjoy during the coldest months of the year.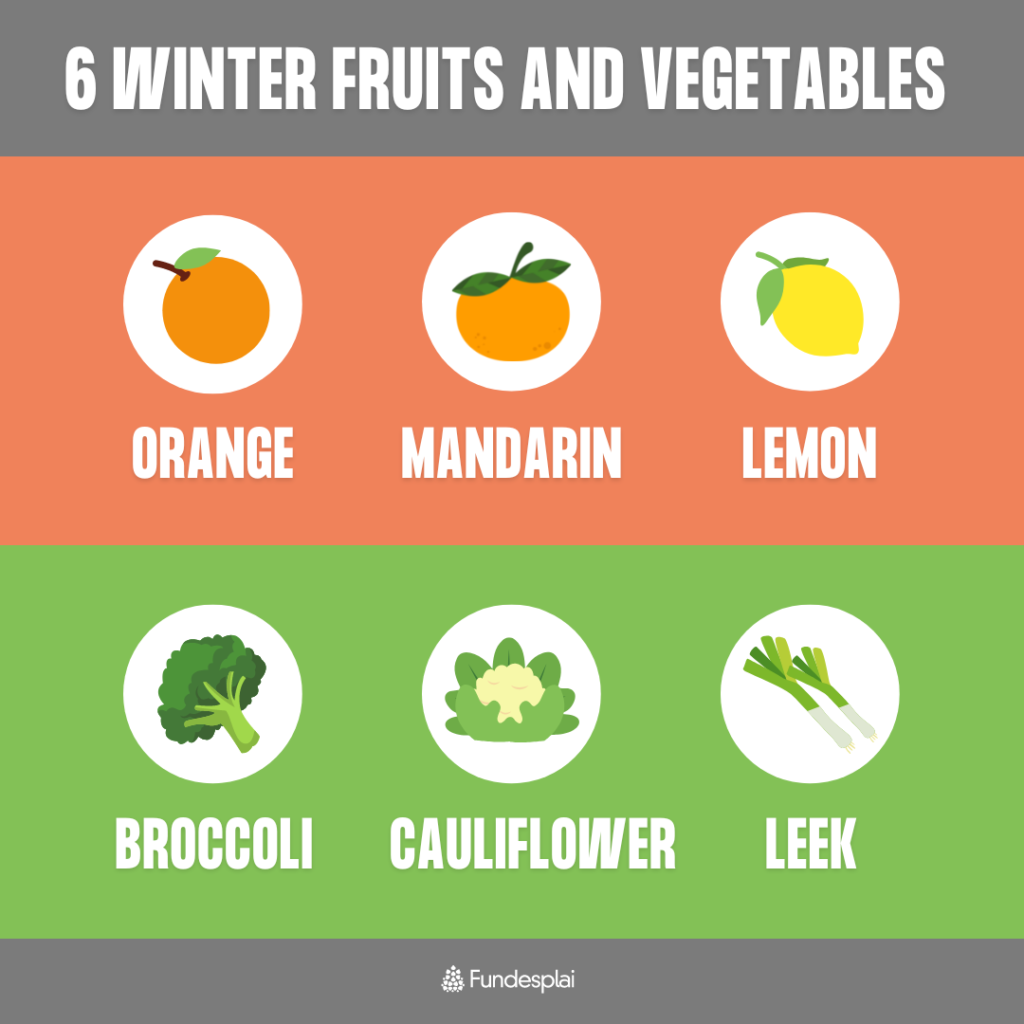 1. MANDARIN
If you like mandarins, consider that you will eat the best ones from November to May!
Mandarins belong to the citrus family. As such, they have a high water content and are rich in fibre, except when consumed as juice. Mandarins contain vitamin C, folic acid, provitamin A, potassium and, to a lesser extent, magnesium, phosphorus and calcium.
In addition, mandarins have digestive properties and help the organism dispose of toxins and other harmful substances.
In Catalonia, mandarin trees are grown in the Baix Ebre and Montsià regions, where 98% of Catalonia's total production is produced (in Catalan).
2. ORANGE
The best time for eating oranges is autumn-winter since their season goes from October to April-May.
Aquesta fruita també pertany a la família dels cítrics i conté, entre d'altres, un alt percentatge de sals minerals; vitamines A, C, B1, B2, B6 i PP; i bons nivells de ferro, coure, zinc, manganès i brom. És rica en fibra, però, de la mateixa manera que la mandarina, aquest contingut es perd si fem suc amb ella.
This fruit also belongs to the citrus family. It contains large quantities of mineral salts, vitamins A, C, B1, B2, B6 and PP, and significant amounts of iron, copper, zinc, manganese and bromine. In addition, it is rich in fibre, but just like with mandarins, orange juice lacks this component.
Oranges have detoxifying, diuretic, digestive, intestinal antiseptic and anti-infectious properties. That is why doctors recommend consuming them for certain diseases, such as diabetes, uremic syndrome or gout.
As in the case of mandarins, in Catalonia, we find orange crops mainly in Baix Ebre and Montsià. These regions produce 92% of the total production in Catalonia (in Catalan).
3. LEMON
Another winter fruit very rich in vitamin C is lemon. It is available from October until almost the beginning of summer.
Lemon is a citrus fruit, like mandarin and orange, with antioxidant and immune system stimulating properties thanks to its citric acid. It also contains acid and alkaline salts.
It also has multiple medicinal applications and is usually recommended for people with arthritis, rheumatism and infectious diseases such as throat infections.
As it is a very cold-sensitive fruit, it is more cultivated towards the south of Spain, where the climate is warmer. Most of its production takes place in Alicante and Murcia.
4. BROCCOLI
Broccoli is one of the star vegetables of the cold months. It is usually available in autumn, winter and even April and May.
It belongs to the cruciferous family and is rich in water, fibre, potassium, calcium, iron and sulphur. As for its vitamins, it contains vitamins C, B9, B1, B3 and provitamin A.
Broccoli has preventive effects on chronic diseases, cardiovascular diseases, diabetes, asthma and degenerative diseases.
In Catalonia, broccoli is grown in Maresme, Baix Llobregat, Baix Ebre, Ribera d'Ebre and Baix Camp.
5. CAULIFLOWER
This fleshy textured vegetable is present almost all year round, but its best season goes from September to May.
Cauliflower contains many mineral salts, such as potassium, calcium, magnesium, phosphorus and sulphur, and vitamins A and C. It is also rich in water and fibre and low in carbohydrates and fats.
Its properties include diuretic, anti-anaemic, anti-rheumatic, anti-arthritic, laxative and blood-purifying effects.
In Catalonia, they are mainly grown in the provinces of Barcelona and Tarragona.
6. LEEK
In winter, we are in the middle of the leek season, which starts in September and ends at the beginning of summer.
This vegetable, characterised by its high resistance to cold, is rich in vitamins B and C and contains iron, magnesium, sulphur, silica, manganese, potassium, phosphorus and calcium. Leeks are also known for their laxative properties.
Baix Llobregat is one of the Catalan regions where this type of vegetable is grown, together with Camp de Tarragona, Terres de l'Ebre and Maresme.
Do you eat these fruits and vegetables at home during the winter? Knowing which products are suitable for each season of the year will allow you to eat food with more flavour, more nutrients and even better prices. Go to the greengrocer's and prioritise the purchase of seasonal products!