Geographical indications in agri-food products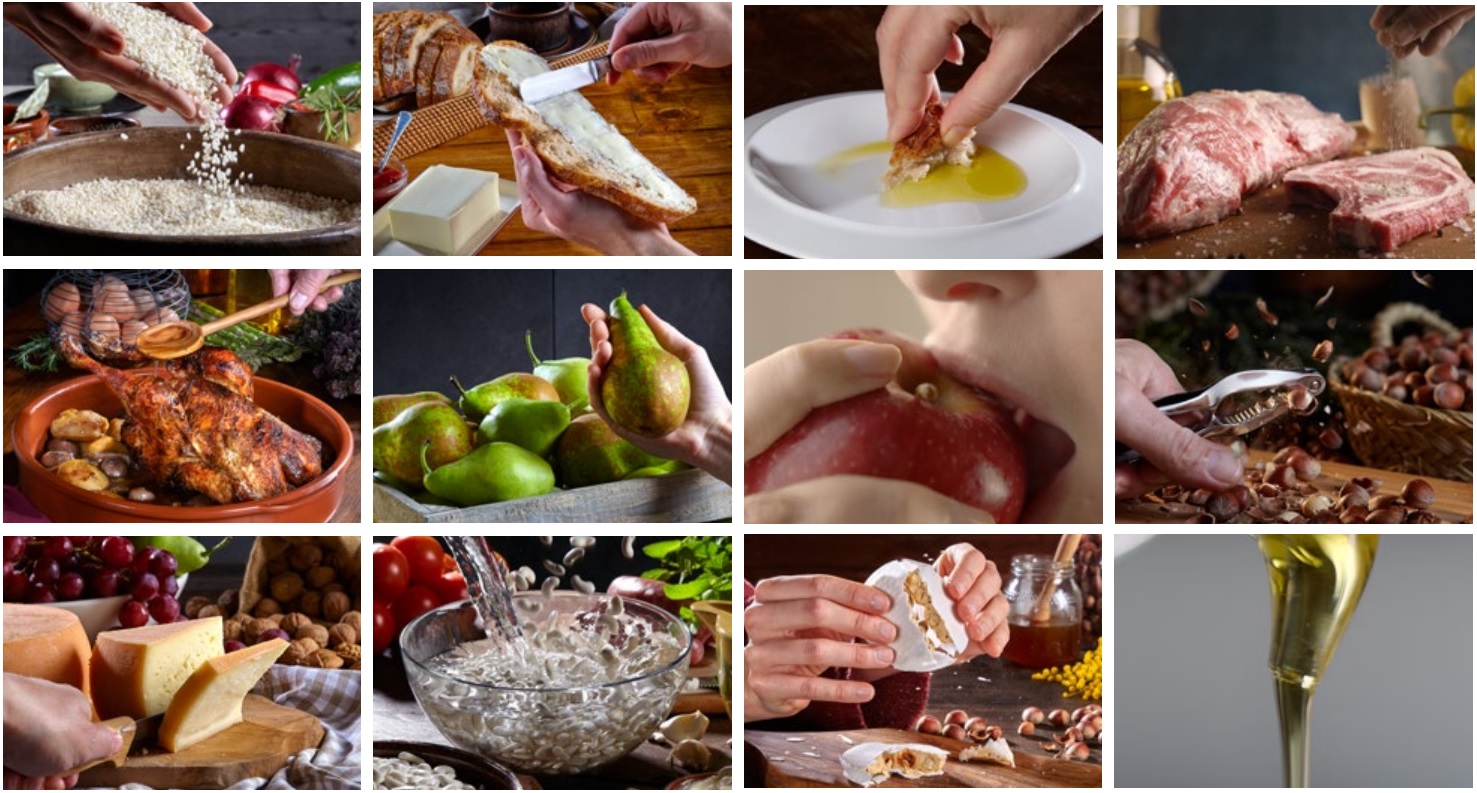 They make you hungry, don't they? The products shown not only look great but also have a shared history. To find out more, don't miss this new content!
WHAT IS A GEOGRAPHICAL INDICATION?
Catalonia has pioneered the protection of designation of origin and geographical indication for non-wine agri-food products in Europe. The Generalitat de Catalunya has the competencies and defines them:
Protected Geographical Indication (PGI) is the name that identifies a product originating in a specific place, possessing a determined quality that is attributable to its geographical origin, and whose production, processing or preparation includes at least one stage carried out in the defined geographical area.
Protected Designation of Origin (PDO) is the name that identifies a product originating in a particular place, where its characteristics or quality are essentially or exclusively due to a specific geographical environment and where production, processing and preparation take place entirely within the defined geographical area.
Both types of markings enjoy the same degree of protection, although there are nuances in the definitions.
The main document regulating these marks of origin is the specifications document, which must include the following product information:
Name
Description
Delimitation of the geographical area
Traceability (elements confirming that the product originates from the area)
Description of the production procedures
Link to the geographical area
Control structure
Specific elements of the labelling
Did you know that the procedure for processing a PDO or PGI application takes a minimum of two to three years? This is because it requires several stages of assessment and publication in official public journals.
ARE GEOGRAPHICAL INDICATION MARKINGS IMPORTANT?
We have a very diverse territory regarding climate, soil and biodiversity, as well as many other factors that influence agrosystems, such as gastronomic traditions. We must attach importance to this because our enormous diversity of products makes up a food model that proves vital for our food sovereignty. Linking products or services to a given region to highlight some of their characteristics or qualities has been a common practice in the market.
On the contrary, this rich Catalan agri-food heritage has been valued from the very beginning and, therefore, agricultural policies have protected it, as it is, on the one hand, the Catalan cultural identity and, on the other, a vehicle for the development of the rural world.
The work of the livestock and farming community, the cooperatives and small businesses are worth highlighting because they make the PDOs and PGIs possible. Despite this, they are usually invisible to a world growing more urbanised. We should add other decisive players to the list, such as the catering industry and the shops and markets that bring these unique products to consumers.
The increasing commercialisation of agri-food products produced in certain territories, whose geographical origin confers characteristic properties that are particularly valued by consumers over several generations, has led to the economy of many territories being based fundamentally on the production and commercialisation of this type of product, allowing the subsistence and even the prosperity of many areas that would otherwise have been condemned to depopulation and disappearance (Sánchez, J. R., 2017).
Finalment, hi ha un interès i una preocupació creixent a la societat envers l'alimentació, és a dir, els consumidors demanen cada vegada més informació sobre l'origen, els ingredients, els sistemes de producció i impactes ambientals dels aliments. Òbviament que la majoria d'aquesta informació es troba a les etiquetes dels productes, però és essencial que hi hagi una distinció expressa per a aquests productes que posseeixen una qualitat diferenciada amb relació a l'origen i a les especificitats de la seva producció (Dossier tècnic de formació i assessorament al sector alimentari núm. 93, 2018).
Finally, there is a growing interest and concern regarding food in society. Consumers are increasingly demanding more information on the origin, ingredients, production systems and environmental impacts of food. Most of this information is already on the product labels, but there must be an express distinction for products with differentiated quality due to their origin and the specificities of their production (Technical dossier for training and advice to the food sector no. 93, 2018, in Catalan).
WHAT GEOGRAPHICAL INDICATIONS DO WE HAVE IN CATALONIA?
Products with PGI in Catalonia: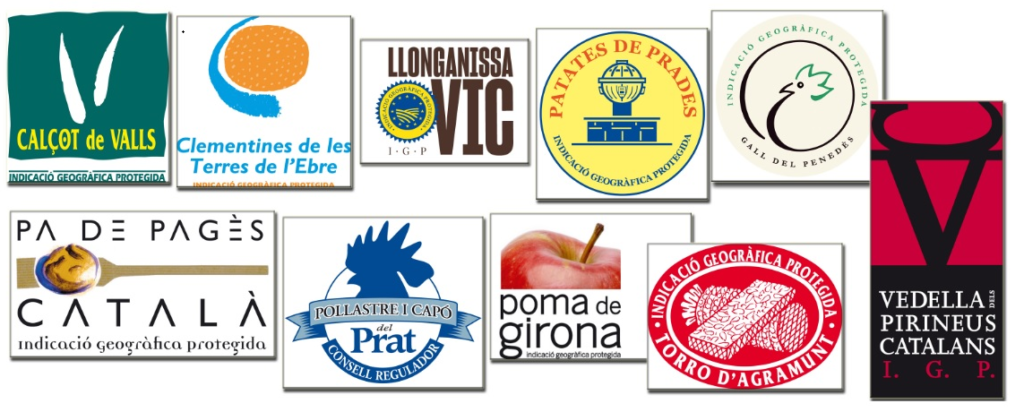 Source: Department of Climate Action, Food and Rural Agenda, Generalitat de Catalunya.
Products with POD in Catalonia: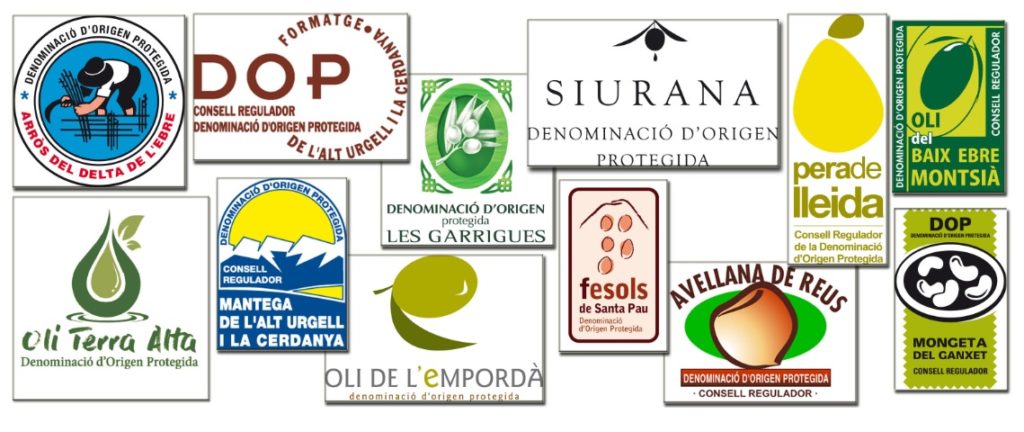 Source: Department of Climate Action, Food and Rural Agenda, Generalitat de Catalunya.
FUTURE PROSPECTS
Actualment una part minoritària de la societat té coneixement d'aquests productes que gaudeixen d'una distinció d'origen. Per tant, cal potenciar la seva divulgació i cercar fórmules perquè cada cop preguin més rellevància en el consum diari per així progressivament abastir-nos amb els aliments que ens dona la nostra terra, en altres paraules, afavorir el consum de proximitat.
Currently, only a minority of society is aware of these products that enjoy geographical indication protection. Therefore, it is necessary to promote knowledge of GIs and seek ways to make them increasingly relevant in daily consumption so that they can progressively reach us with the food that our land gives us, in other words, to promote local consumption.
In addition, for future demands for PDOs and PGIs, there is a need for a critique and a review of aspects that need improvement to incorporate new products: adequately identifying and protecting agri-food products in such a globalised world will be vital to guarantee our identity, the economy of the first sector and food sovereignty.
SPEAKING IN FIRST PERSON: POMA DE GIRONA

Source: Poma de Girona, in Spanish.
Apples, and other fruit and vegetables, have been traditional crops in the counties of Girona since time immemorial. […]. The orchards enjoy a privileged climate, influenced by the proximity of the Mediterranean and the Pyrenees. Temperatures are mild and cool, with marked contrasts between day and night and high relative humidity and sunshine during the summer. The result: apples with perfect colour and high sugar content. This is how Poma de Girona [Catalan for apple from Girona] presents its fruit on its web page.
Poma de Girona has been one of the products with PGI since 2003, and its history shows how, despite the passage of time, consumers continue to choose them. Specifically, the first union of this formation took place in 1987 under the name of Associació de Denominació de Qualitat Poma de Girona, which grouped the four leading companies in fruit production in the province of Girona. Over time, only three remain, Giropoma Costa Brava, Fructícola Empurdà and Girona Fruits.
INTERVIEW: JAUME ARMENGOL, PRESIDENT OF THE POMA DE GIRONA GROUP
Below you will find an interview with Jaume Armengol, president of the Poma de Girona group:
Could you briefly define the Poma de Girona group?
Initially, a union of a few producers -currently twenty- created the Poma de Girona group in 1987. It already included the current marketing companies, Giropoma Costa Brava, Fructícola Empurdà and Girona Fruits, and they opted for the PGI seal. This seal guarantees the quality of the product, given that obtaining it requires rigorous compliance with production and certification standards and the linking of the product with the territory.
What values do you work with?
Poma de Girona is committed to four key values, which are:
Value of the territory where we produce.
Value for innovation.
Value with the commitment to the consumer.
Value with the responsibility of the producers.
We know you participated in the German trade fair Fruit Logistica 2022 last April. How far does Poma de Girona reach?
The three marketing companies are constantly modernising to be able to provide a quality service, which means that we can distribute the Poma de Girona all over the world. Poma de Girona is known in all markets, both national and international.
You produce four different apples (Golden, Gala, Granny Smith and Red Delicious) and all of them with a PGI. Which is the most successful?
All four varieties are of high quality, and all of them have their particular flavour. We can say that each variety has its own market, so all of them are successful.
Do they have different targets?
Yes, each variety and each calibre has a different target.
Broadly speaking, what are their differences?
GOLDEN
Greenish-yellow fruit, thin-skinned and smooth. Large size.
Whitish flesh, firm, juicy, crunchy, sweet flavour and very aromatic. Medium vigour tree, quick entry into production. Flowers are white or pink, large and very resistant to frost. Harvest takes place at the beginning of September. Suitable for fresh consumption, juices, salads and cakes, or baking.
GALA
Bicoloured fruit, red and yellowish. The skin may have marked striations. Medium size. White flesh, firm, juicy, fine and very crunchy, sweet flavour. Vigorous and straight tree, quick entry into production. Pinkish-white, large, frost-resistant flower. Harvested during August. Ideal for fresh consumption and salads.
GRANNY SMITH
Intense green fruit with white lenticels. Large size. Whitish, compact, firm and juicy flesh with a tangy flavour. Vigorous tree, with a characteristic faint appearance, quick entry into production. Pinkish-white, frost-resistant and very productive flower. Harvested during October. Suitable for fresh consumption, salads and cakes or baked.
RED DELICIUS
Weak tree, quick entry into production. White, pinkish, large and very frost resistant flower. Harvested at the beginning of September. The fruit is red and smooth-skinned. Large size. Whitish, firm, juicy and sweet flesh. They are always very sweet. Suitable for fresh consumption, making juices, salads and cakes, or baking.
Finally, what would you say to someone who hasn't tried a Poma de Girona apple?
Don't miss the opportunity to try them; you will buy them again. When you do, look at the label indicating the origin of the apple.