A problem of food and social justice: the plundering of fish on the Western African coast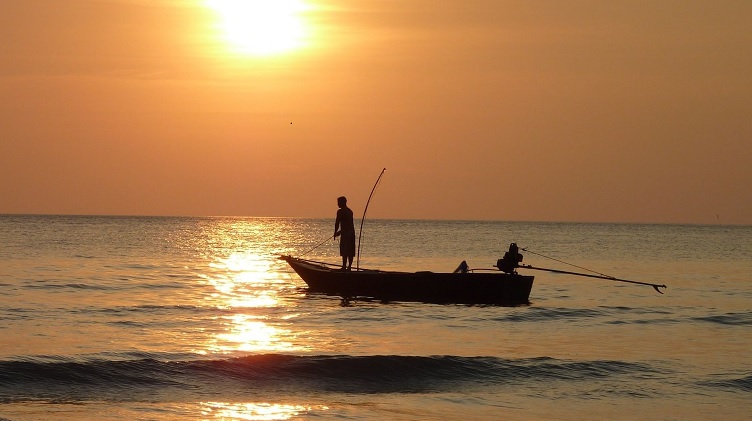 FOOD JUSTICE
In recent decades we have witnessed a dramatic change in food systems: we are experiencing a food crisis in addition to hunger, biodiversity and climate crises. The food system has become a threat: on the one hand, there is a large population with nutritional problems consisting of illnesses or hunger; on the other hand, the food system emits up to 40% of total GHG emissions.
In the 1990s, food became part of the package of goods that can be traded in the globalised world, just like any other product. This fact has serious consequences, as food trade between distant places (food miles) often leads to a collapse in the right to food itself in all those systems that depend on their local food resources (agriculture and fishing). In other words, food availability depends on other countries' economic interests. For example, not so long ago, there was a milk deficit in Spain. To solve it, the current Administration imported milk from African countries at a ridiculous price, all of this with the corresponding political approval. Another example can be found at the domestic level: so-called empty Spain is nothing more than a result of the families owning small and medium-sized livestock and agricultural farms -who also took care of the landscape- abandoning their lands and migrating generation after generation due to the lack of economic viability.
This international market and the deregulation of markets gave control of the food system to large multinational companies. This fact, in turn, has led to a change of diet in western countries, where there is a shift from a diet based on local and fresh produce to a diet based on ultra-processed foods: 70% of what we consume is processed or ultra-processed. What is the problem? Such products are rich in salts, sugars and saturated fats and end up causing diseases.
There is currently an increase in obesity, especially in children. Other diseases derived from a poor diet are cardiovascular diseases, type II diabetes and some types of cancer. These facts determine that poor nutrition is a serious public health problem; more specifically, poor nutrition causes 90,000 avoidable deaths per year caused.
FISH STOLEN ON THE WESTERN AFRICAN COAST
In 2019, the European Union gave the go-ahead for fisheries agreements, which allowed European fishing vessels to go down to the coasts of Senegal, Mauritania and Gambia.
In these places, people live mainly from this local, traditional, and sustainable fishing they carry out with their dugout canoes. Traditionally, fishermen went out and returned with enough fish every day. As an aftermath of the European agreement, those populations began to see giant ships coming down and catching large quantities of fish, devastating the seabed. This fact meant that, when they find fish, local fishermen catch only small pieces, so now they must go further out to sea with all the risks this operation entails.
The deterioration of marine ecosystems affects the local economy, displaces people and affects their food and survival.
Seven million people depend on fish, their source of economic income. Decades of overfishing and malpractice by industrial fishing fleets, as well as the failure of West African governments, China, South Korea and the EU to honour their commitments, caused 30% of the West African population to suffer from malnutrition and 300,000 jobs have already been lost in the regional fishing industry (Greenpeace, 2017). They can't survive under these conditions. For this reason, many people take their dugouts to the Canary Islands, for example, trying to find a solution. Therefore, emigration is not a natural phenomenon but has environmental and political causes, fundamentally born of poor territorial management.
In short, our oceans are currently so heavily exploited that the reproduction of many fish species is endangered. The grabbing of Africa's resource-rich waters by European and Asian countries threatens the continent's food security. It is an unequal struggle, where Africans suffer continued plunder on a large scale while the other side has the law on its side.
1ST PERSON TESTIMONIES
Source: MOOC – SDG and food: shared struggles, Menja, Actua, Impacta (2022).
Malamine Soly is a young Senegalese who has been a migrant for several years and is now co-founder and director of the Dunia Kato Association. He makes talks on migration, social and solidarity economy and social entrepreneurship everywhere. Today he talks to us in first person about the fishing situation: the river of the village that flows into the Atlantic had a great abundance of fish, which they brought to the capital, and the local people lived from this fishing activity. Some three or four years ago, this situation changed completely: there were no fish in the river. Malamine didn't understand what had happened, so he started to ask around and discovered that big boats were coming to Senegal and taking all the fish with abusive practices. When he checked the fishing forums, he found some fishing agreements signed with Senegal in which they sold fish at extremely low prices compared to those in Europe.
He explains: this situation occurred on all coasts; local fishermen found no fish in their traditional fisheries, so they had to go further out on the sea. It meant more risk exposure, firings, and food scarcity in countries without unemployment insurance or benefits. They barely make a living with what they find, so they leave for Europe, the region that took all the fish. We are talking about people with scarce resources or jobs available. No one has a subsidy. They live off the natural resources of the land and the sea. In the end, they are forced to migrate to an unknown system that will leave them with nothing because it exploits them while using up their raw materials.
Another problem is inequality in market conditions: governments do not guarantee to local fishermen the coming out on the market of their products, but foreign companies, which are more competitive, do have all the guarantees. As a result, people are encouraged to leave the country and seek opportunities elsewhere. What is the problem with this? Mobility for Africans is not the same as for Americans or Europeans, which is why so many people end up risking their lives while crossing the seas.
Do not miss it! – Stolen Fish, a documentary by Gosia Juszczak (2020)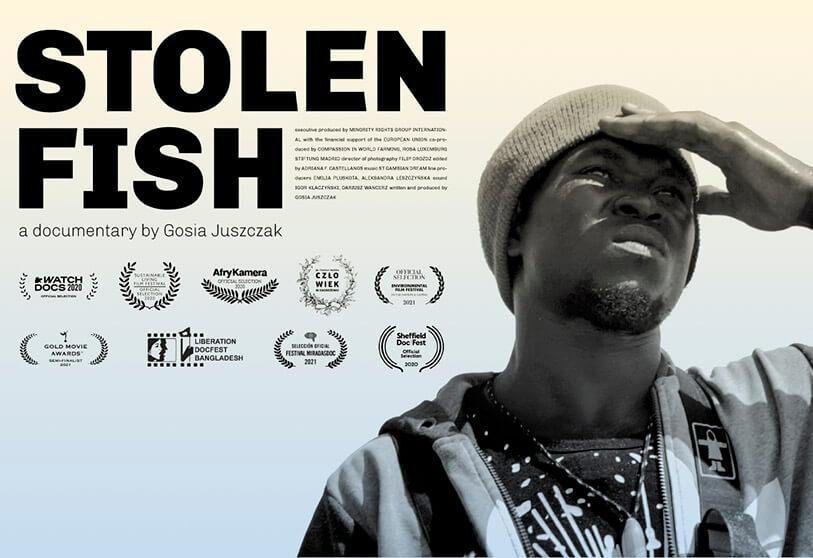 Source: Stolen Fish, la realidad de la pesca en África (atalayar.com) (2021).
This documentary shows this precarious situation, where the production of the fifty or so fish factories in West Africa is being brought to the European Union and China, causing unrest and serious problems for millions of people. The highest rate of migration to Europe comes from this region.
The film, shot in Gambia and released in 2021, depicts the personal stories of very humble people who live hand to mouth and generally have no channels to make their voices heard. The director aims to connect migration, globalisation, colonisation and food security. Let's have a taste of the work through the words of Abou, one of the protagonists: They arrived in 2017 and started to build factories. But it was in 2018 when they began their massive illegal fishing practices. Most of my friends started selling their boats and other possessions and started working on something else because fishing didn't give you anything anymore. You would go fishing and come back with a completely empty boat.
WHAT SHOULD BE DONE IN SUCH A SITUATION?
Governments must prioritise the recovery of these resources and the protection of marine ecosystems, small-scale fishermen and the millions of Africans affected. It is, therefore, necessary to ensure that the relevant politicians take on board the commitments in fishing agreements and the practice of sustainable fishing.